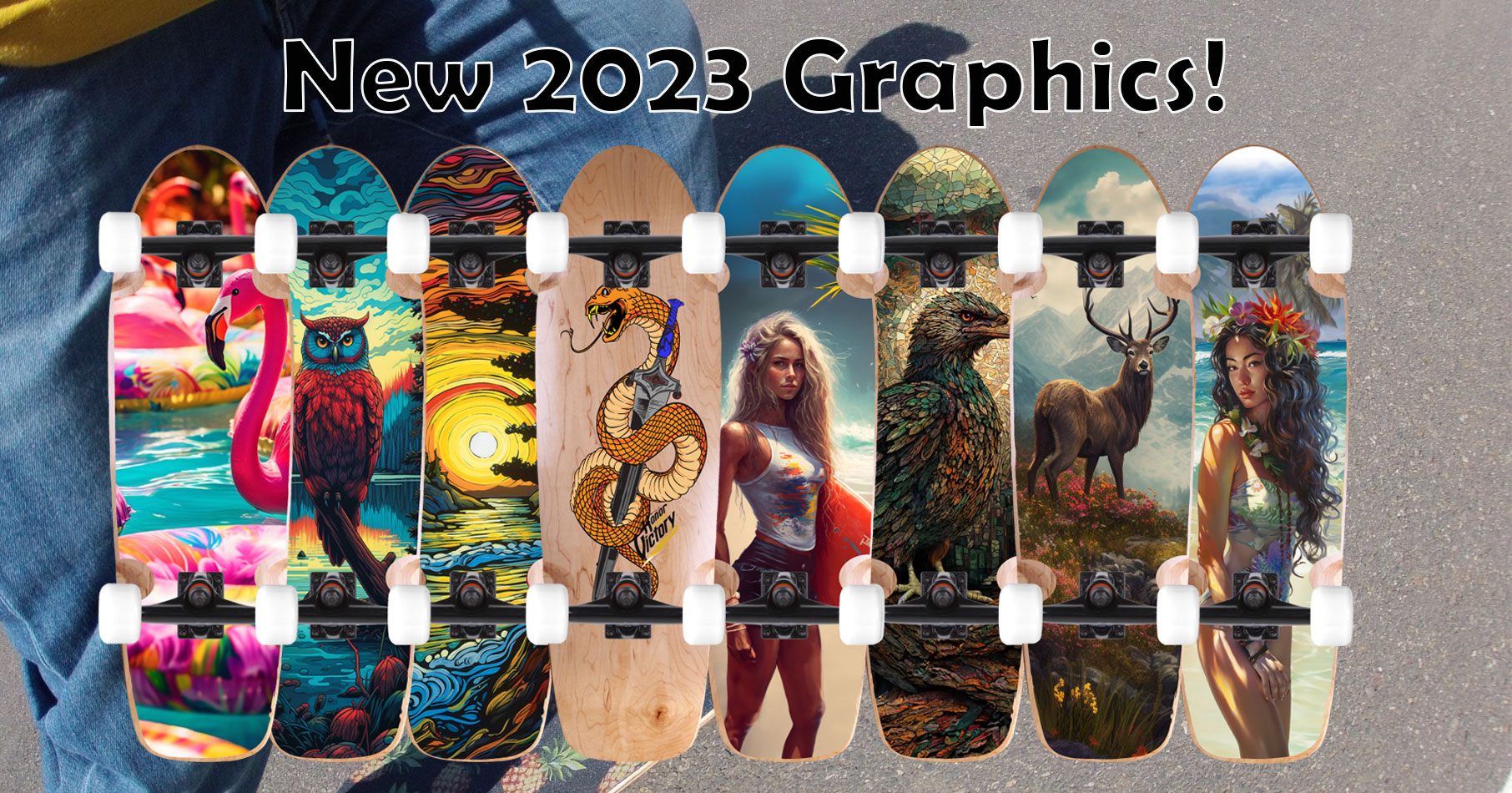 Embrace the Summer Vibes with Our Brand New 2023 Graphics for the 30" Skateboard Cruiser
The warm sun, salty breeze, and adventurous spirit of summer are finally here, and what better way to celebrate than with our brand new 2023 summer graphics for the 30" Skateboard Cruiser? Whether you're dreaming of beach days or yearning for wilderness adventures, our captivating beach and wilderness graphics will transport you to the heart of summer excitement. Join us as we dive into the details of these stunning new designs that are sure to turn heads and ignite your summer skating spirit.
Get ready to hit the beach in style with our vibrant and captivating beach graphics. Picture yourself cruising along the boardwalk with palm trees swaying in the background as the sun casts a golden glow. Our beach-themed graphics showcase a variety of stunning designs, including tropical sunsets, crashing waves, and palm-fringed shores. With their eye-catching colors and intricate details, these graphics will evoke a sense of carefree beach bliss every time you step on your skateboard.
If you're an adventurer at heart, our wilderness graphics are perfect for you. Let your skateboard become a gateway to unexplored territories and breathtaking landscapes. From majestic mountain ranges to serene forests, our wilderness-themed graphics capture the essence of nature's beauty. Every ride on your 30" Skateboard Cruiser will feel like an exhilarating journey into the heart of the great outdoors. So, lace up your hiking boots, grab your board, and embark on a thrilling skateboarding expedition through the untamed wilderness.
Beyond their stunning visuals, our 2023 summer graphics for the 30" Skateboard Cruiser are crafted with uncompromising quality. We pride ourselves on using premium materials to ensure durability and performance. The graphics are printed using state-of-the-art techniques that preserve their vibrant colors and sharp details, ensuring they withstand the rigors of skateboarding. So, not only will you be cruising in style, but you can also have peace of mind knowing that your skateboard is built to last.
With our diverse range of beach and wilderness graphics, you have the opportunity to express your unique personality and style. Whether you're a beach enthusiast, an adventurous spirit, or simply someone who appreciates stunning artwork, our graphics offer something for everyone. Choose the design that resonates with you and let your skateboard become a reflection of your individuality.
As the summer sun shines brightly, our brand new 2023 graphics for the 30" Skateboard Cruiser are ready to accompany you on unforgettable skateboarding adventures. With captivating beach and wilderness designs, you can infuse your rides with the essence of summer. So, grab your board, feel the wind in your hair, and let our graphics transport you to your favorite summer destinations. Embrace the thrill, express your style, and enjoy the freedom of skateboarding with our 2023 summer graphics. Let the summer vibes guide your every ride!