You are never too old to skate!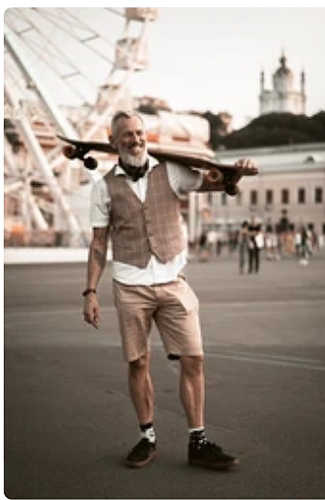 Local 55 Year Old Finds a New Passion in Longboarding and Improves Health
  David, a 55-year-old resident of Irvine California, has discovered a new way to stay active and improve his health by taking up longboarding. What started as a casual hobby has now turned into a passion, helping him to lead a healthier and more active lifestyle.
   As an avid sports enthusiast in his youth, David had always enjoyed staying active and participating in various physical activities. However, as he grew older, his work and family responsibilities left him with less time to focus on his physical well-being. He found himself struggling to find an activity that he enjoyed and that would also help him stay active.
  That's when David discovered longboarding, a sport that involves riding a skateboard that is longer and wider than a traditional skateboard. With a longer board, it provides a smoother ride and is easier to balance, making it perfect for adults who want to stay active but may not have the agility or balance they once had.
  Since taking up longboarding, David has noticed a significant improvement in his health and well-being. Not only has he lost weight and gained muscle, but he also feels more energized and focused throughout the day. He credits his newfound hobby with helping him to lead a happier, more fulfilling life.
  "I never thought I would enjoy something like longboarding at my age," said David. "But it's been an amazing way to stay active and improve my health. I feel like I'm 20 years old again!"
  David hopes to inspire others in his community to take up longboarding and find their own passion for staying active. He encourages anyone who wants to improve their health and well-being to try it out and see how it can change their life.
  For more information on longboarding and its benefits