Custom Graphics with Buildaboard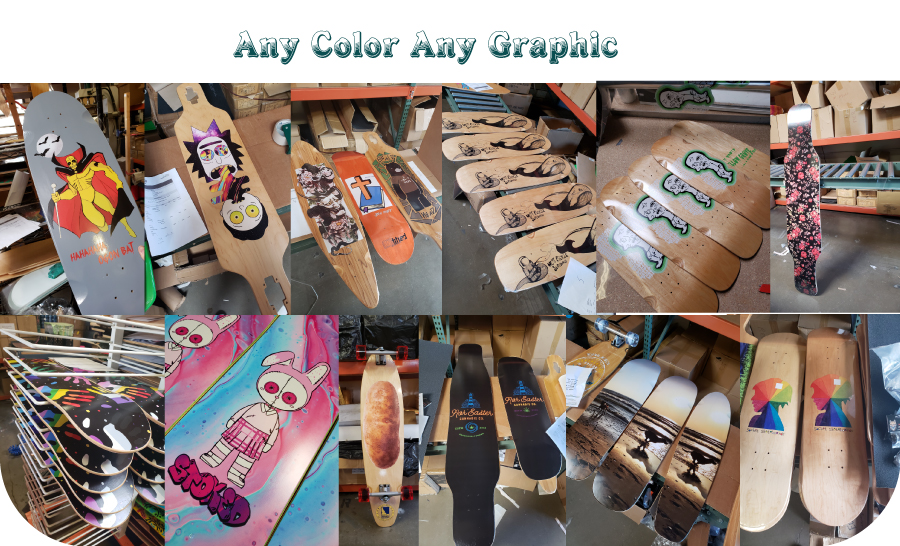 In the world of longboarding, the deck under your feet is your canvas, and the road is your stage. It's where freedom, style, and self-expression converge. At Buildaboard, we understand that your longboard is an extension of your personality, and that's why we're all about giving you the power to make it uniquely yours. With our custom graphic printing service, you can create a ride that truly stands out from the crowd.
Your Vision, Your Board
Your dream longboard awaits, designed entirely by you. With Buildaboard, this vision can become a reality. Our platform allows you to print your own custom graphic on any board available on our site. From selecting the deck shape to choosing the components, it's a design process that's as unique as your style.
Endless Possibilities
The possibilities are limited only by your imagination. Do you have a favorite design, a piece of art, or a personal symbol that you want to see on your longboard? With Buildaboard, you can upload your own graphics or choose from our extensive library of designs to create the board that speaks to you.
Grip Tape Customization
But we don't stop at the deck. Grip tape is another blank canvas waiting to come to life. At Buildaboard, we offer the option to match your graphic and print it directly on top of the grip tape. It's a level of detail that sets your board apart and adds that extra flair to your ride.
The Buildaboard Difference
We're not just a company; we're a community of riders who understand the importance of individuality. When you customize your longboard with Buildaboard, you're not just getting a board; you're crafting a statement, an extension of yourself, and a work of art that's ready to take on the streets.
Unique Gifts and Personal Touch
Looking for that perfect gift for a fellow skater? Customize a longboard with a graphic that holds sentimental value or an inside joke. It's a gift that shows you've put thought and care into the present, making it an extraordinary and personal surprise.
Join the Buildaboard Revolution
With our easy-to-use platform, creating your custom longboard is a breeze. Join the Buildaboard community of riders who are designing their dream rides and sharing their unique creations with the world. Stand out on the streets, express your personality, and turn heads wherever you ride.
Ready to Get Started?
Your dream longboard is just a few clicks away. Visit Buildaboard, explore the options, and start designing the ride of a lifetime. Your custom graphic longboard is more than just a board; it's a statement, an expression, and a one-of-a-kind work of art that's ready to roll. Embrace your uniqueness and redefine your ride with Buildaboard.
Read more »